Showcasing World Class Manufacturing on the Advanced Manufacturing Programme
Students from AMLP were lucky enough to visit two of Northern Ireland's world-class manufacturers. Read below to find out the overall thoughts on the experience.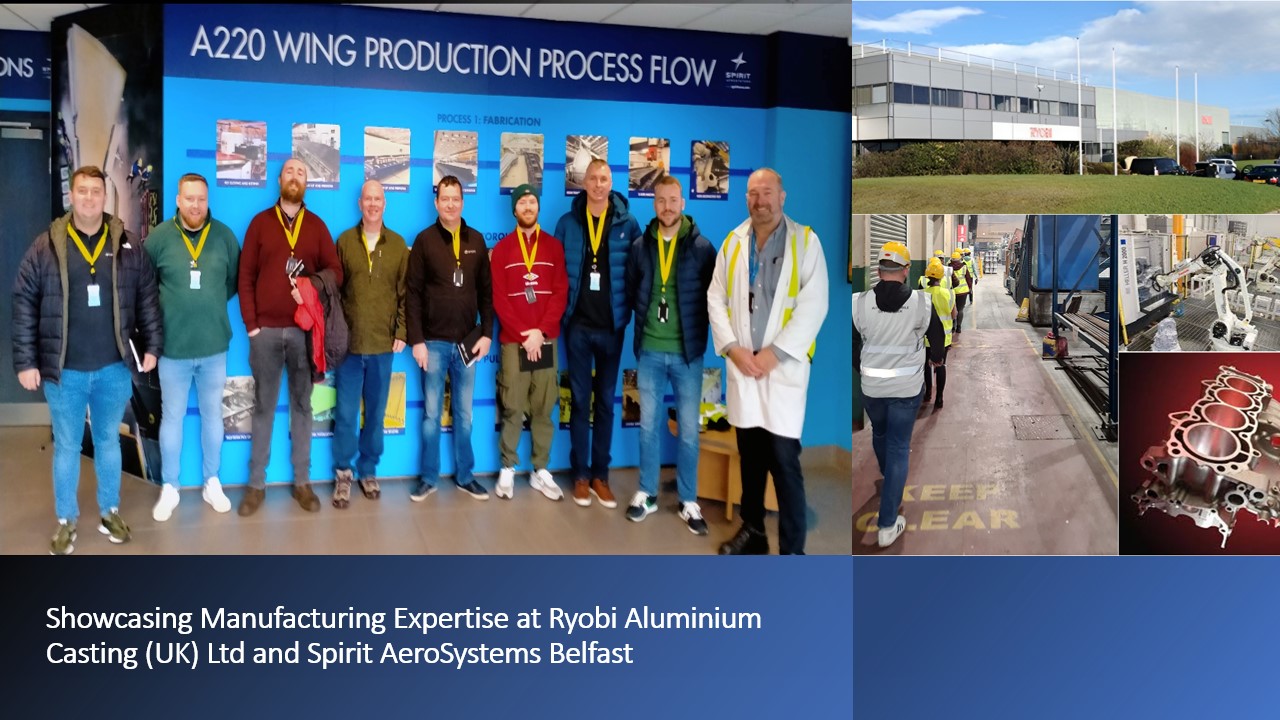 Students from the Advanced Manufacturing Leadership Programme (AMLP), jointly run by the William J. Clinton Leadership Institute, Queen's Business School and the Centre for Competitiveness, recently visited two of Northern Ireland's world-class manufacturers, Ryobi Aluminium Casting (UK) Ltd, in Carrickfergus and Spirit AeroSystems Belfast.
After an introduction to the business by Paul Davidson, RySobi's Design Manager and himself a graduate of AMLP, students were taken on a guided tour of the factory by Manufacturing Manager Stafford Doran. Students were impressed by the sophistication of Ryobi's manufacturing operations and the culture of excellence, as well as by the ongoing investments in advanced manufacturing technology.
Julie McCandless, Programme Director for AMLP, said: 'The students and I who toured Ryobi's facilities were greatly impressed by all we saw. Ryobi is a market leader for multiple reasons, all of which we witnessed: a strong culture of safety and quality, the commitment of staff at all levels, excellence in the application of manufacturing techniques, heavy investment in differentiating technology. The front-line managers participating in AMLP were clearly impressed by what they learned, and we hope that some of Ryobi's best practices will find their way into other NI manufacturing companies as a result. We are extremely grateful to
CEO Marco Emig and consultant David Watson, as well as to Paul Davidson and Stafford Doran, for their continued support for AMLP.'
Across at Spirit AeroSystems, Martin Moffett, Continuous Improvement Manager, provided a helpful introduction to how change is managed at Spirit and he then led a tour around the Wing Manufacturing & Assembly facility in Belfast.
William Ussher, Senior Executive CforC, said: 'This was a great opportunity for Team Leaders and front-line Managers from local Manufacturing companies to learn about Lean principles developed by Martin and his colleagues at Spirit, and to see many Lean Manufacturing best practices deployed across the operation. We're grateful for Spirit's support and for the valuable contributions made by its staff members to every cohort of the programme.'
To view the programme details visit: https://www.leadershipinstitute.co.uk/ExecutiveProgrammes/AdvancedManufacturingLeadershipProgramme/
Register now for the February 2024 cohort. Apply here: https://forms.office.com/Pages/ResponsePage.aspx?id=6ner6qW040mh6NbdI6Hyht3MwCteUMZLpbvCdMacTQ9URjJKNTIyQ1lVMkZPUTRER1NDS05TUzVKNS4u